Being a Purina Certified Expert Dealer means that we offer a complete line of quality Purina feed products and have knowledgeable associates who care first about our customers, and their animals. Training is a key element for our Certified Expert staff and you can depend on us for Certified Expert advice!
Expert Articles & Advice
April 1, 2014
If you've ever ventured to the doggy park, you've seen how antsy dogs can get when encountering one another for the first time. This is entirely understandable and normal for random encounters, but what about introducing a new puppy to the dogs you already have?
April 1, 2014
Any equine enthusiast is well aware with the struggles associated with loading a horse into a trailer. It's natural for your horse to experience nervousness and anxiety when being loaded into a trailer whether it 's the first or fifteenth time.
Special Offers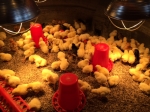 We now have baby chicks available at Centerville Produce!
Valid 4/01 - 4/30/2014
Purina Cattle Videos
"Better Animals® Discussion:Supplying Extra Nutrients for Your Cattle" Dr. N.T. Cosby and Dr. Chris Forcherio discuss and give us tips on supplying extra minerals to cattle.
Quick Contact & Hours
Mon - Fri
8:00 am - 6:00 pm